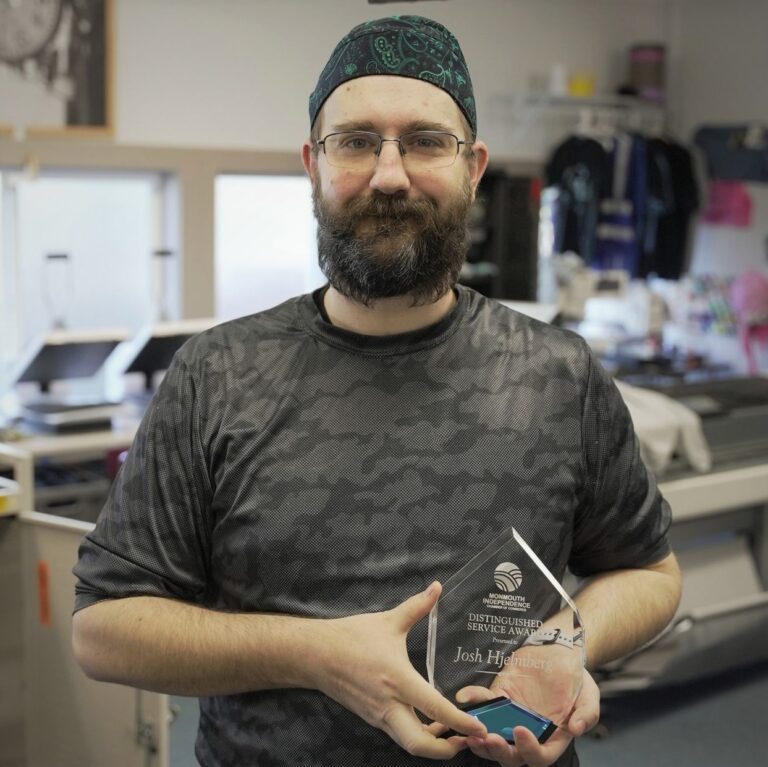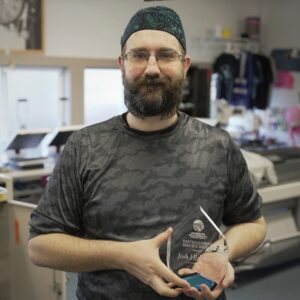 On April 23rd, Josh Hjelmberg, CSC Technology Teacher in our Polk County STREAM Lab makerspace, was recognized by the Monmouth Independence Chamber of Commerce with the 2021 Distinguished Service Award. With this prestigious recognition, Hjelmberg joins a venerable list of individuals working towards the future of Polk County, including Polk County Commissioner Mike Ainsworth (2006) and Economic Development Director for Independence Shawn Irvine (2020).
Hjelmberg has a long history of service to his community, spending much of his youth in the Cub Scouts and Boy Scouts of America. He worked on a myriad of projects with them, including food drives for local food banks, environmental cleanup, and replanting trees for the United States Forest Service.
Shortly after graduating from Central High School in Independence, Hjelmberg entered the United States Air Force, serving as a Supply and Logistics Staff Sergeant before being honorably discharged in 2009. After his discharge, Hjelmberg returned home to the Mid-Willamette valley to earn his AAS in Computer Aided Drafting from Chemeketa Community College, graduating with honors in 2011.
After graduation, Hjelmberg went to work for Jacobs Engineering (then CH2M Hill), designing electrical distribution systems for waste water and drinking water treatment plants. During that time, he worked to improve water treatment systems as close to home as Wilsonville and as distant as Masdar City in the United Arab Emirates. In 2017, Hjelmberg joined a steering committee formed to create the STREAM Lab makerspace as a community volunteer, and officially joined the Community Services Consortium (CSC) team in 2018.
Since joining CSC, Hjelmberg has innovatively created a workforce space that trains and inspires youth all over Polk County to learn about STEM curriculum by using technology including 3D printers, laser cutters, embroidery machines, screen-printing, etc. In this past challenging year, Hjelmberg was responsible for CSC being able to offer hundreds of classes via distance learning and at the same time created safety protocols and technological tracking, allowing CSC Polk staff and youth to resume safely meeting in-person and continue with their education and employment goals.
This well-deserved award highlights the legacy of impact that Hjelmberg has and continues to make throughout his career, inspiring and motivating hundreds of youth and young adults across Polk County. CSC is deeply proud of his accomplishments and contributions to the community and his dedication to our mission of helping people access tools and resources to build brighter and more stable futures. Congratulations, Josh Hjelmberg!